Thursday, August 21st, 2014 at 6:17 pm
Tortilla Flat Arizona
Tortilla Flat Arizona was a welcome stop for travelers on the Yavapai Trail which connected Tonto Basin with the Salt River Valley prior to 1906.
In 1906 the trail, now known as Apache Trail, was completed as a freight road for construction of Roosevelt Dam.
Tortilla Flat became an important water and supply stop on this road.
The Apache Trail is now Arizona State Route 88, but Tortilla Flat remains a welcome stop.
I can tell you we had a great time looking at the shops, eating ice creams cones, and looking at the little school museum.
This one lady in the gift shop spent a long time looking up what type of turquoise the ring was that I gave to Mom White. It turns out we think it was Kingman turquoise. Pretty cool. I wasn't sure because my Mom (Mom Brady) was the one who left it to me when she passed. Anyways, the clerk was very helpful and kind.
Here's some pictures of me and Mom White goofing off with hats in the gift shop:
Silly Ma! LOL!
Tortilla Flat Arizona was a great place to stop, hangout, and look at the cool rock formations all around us. If you'd like to know more about it, click HERE

Check out these spectacular pics…
Here's another….
And another…..
Ok, it's not really a scenic pic, but you gotta have a pic of the sign, right?! lol
The history is amazing in this state. I personally feel a strong connection with Native Americans because my Grandma Bulla on my Dad's side was full blooded Cherokee. I feel tremendous pain for what the Native Americans went through. What are YOUR thoughts?
Enough of that….onto more pics!
Oh My!
Wyatt Earp bath tub…interesting!
14 students, really?! Can you imagine?
Here's some more pics of us goofing off…
Love it! Now, here's mine…I should've just stood beside him in the "Little Squirts" toilet seat, but shoulda, woulda, coulda. Haha!
Tortilla Flat Arizona
A must see if you go to AZ.
 So, that's all folks for now…ya'll come back now ya hear?!…for our pics of where we stayed and some more places we visited.
How would you like to blog about random travel adventures, silliness, or whatever your passionate about and get paid? To find out more, click HERE
If you enjoyed this post titled, "Tortilla Flat Arizona", please LIKE, SHARE, COMMENT, and RE-TWEET!
If you're ready to join a team, a family of people who come from all walks of life who are making it happen, then click the big yellow button below and let's get ROCKIN'!
Your Partners in Prosperity,
Brian & Felicia White (B and Flea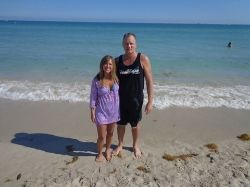 Home office 614-259-7107